Lonely Beach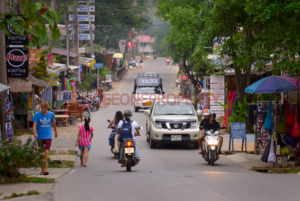 Before Lonely Beach became the main spot of Koh Chang regarding the night life and the parties that we know, a few years ago it was a distant village unconnected to the main road where you could run into some rare backpackers staying in dirty huts.
Nowadays of course, everything has changed and you will find a lot of different kind of accommodations, restaurants, activities, places on the beach to chill out or to have fun, ton of different shops on the main road as well as an important nightlife. The nature surrounding LB is quite preserved and you will have to drive across the mountain to get there from the north on a road bordered by the jungle on a side, and some stunning high sea views on the other one.

You will be able to find a lot of information about Lonely Beach on many websites. For example you can have a look on the excellent guide from ExploreKohChang, quite exhaustive.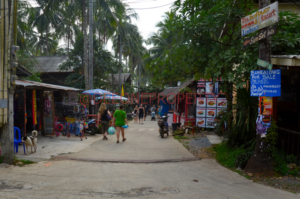 The LB COMPLEX
The LB complex is a huge land owned by a renown local landlord who has the desire to create a new village at the entrance of Lonely Beach. The land consists of 32,000 sqm. divided into many plots available for a yearly rent, with 3 years renewable contracts. The landlord and creator of this new development project is determined to make a new popular area and it's very likely that this place will soon be a huge spot of the island. The project includes a big hotel, big bars, beach parties, and many more possibilities : the landlord relies on the creativity of the future entrepreneur who will rent some plots.
So if you want to be part of this exciting new project and take advantage of this opportunity, check out our exclusive offers in LB Complex and don't be too slow : the land won't stay long on the market. The first shops and bars are already being built right now and the activities will start soon.
Bailan
Bailan is the quiet little sister of Lonely beach. You can find there all kind of accomodations, from luxury beach-front resorts to low budget bungalows. The life style in Bailan is quite preserved, as it seems this area has been
spared by the big partying frenzy of Lonely beach — and yet you will find very nice places to chill out.
As in any other parts of the island, Bailan has good and less good places for eat and for stay. You will find there a lot of activities to spend good times. Although Bailan has some nice water beachfront spots, they are rather isolated and there is no white sand beach : this is the main reason why Bailan is not as developed as other parts of Koh Chang — and that's why it's a very nice spot to rent a house monthly and spend some quality relaxing time.
If you are interested in this village, maybe you could check out our houses and bungalows for rent in Bailan, we have many offers (including some low budgets nice bungalows).
When you have some hours to spend, go and nose around Bailan, you will find some sleepy spots on the shore, mangrove to explore, some hidden restaurants and reggae bars. You'll discover rewarding view spots. If you visit the place out of the season peaks, you'll be able to get your hands on very good deals for monthly rentals in beautiful houses. The whole Bailan bay is overall quite beautiful.
And the most important : the people there are nice, and live at a slow pace : it's a very peaceful friendly village.
Business wise Bailan is a good place as you have a lot of people going through, between the busy lonely beach and the Bang Bao pier. Resorts in Bailan catch a lot of travelers who want to enjoy the Lonely Beach parties without suffering from the never-stop sound systems of the bars. We have some friends running restaurants and resorts in Bailan and they are very profitable business. You can check out our businesses for sale in Bailan, we have some exclusive offers !
For your holidays, Bailan is a perfect balance between the backpacker paradise, Klong Koi, and the busy/sanook Lonely Beach.
For general information about Bailan, you can check the guide on explorekohchang.
Bang Bao
Although Bang Bao is not an old fashion style thai fishing village like it used to be, it's still one of the best spot in the island if you know where to go. Nowadays, Bang Bao pier is the main departure point for the fishing/diving/snorkeling boat trips around Koh Chang, and the main wooden path on stilts leading to the port itself has clearly become a shopping touristic area.
The main pier itself is still charming though, out of the rush hours, when the tourists are running all around the souvenir shops. In the middle of the day it can be a peaceful area, where observing the fishing boats and the workers going and coming, can be a rewarding show by itself if you are a contemplative person.
Regarding the pier and the activities of Bang Bao (boat trips, excellent seafood restaurants, and souvenir shops, etc.), you will find a lot of information on internet : you can have a look at ExploreKohchang. However some secrets are well kept by the Koh Chang community about Bang Bao, so you should go and see by yourself :p
The charm of Bang Bao is out of the main pier, out of the touristic activites. As you can see on this map, Bang Bao is a large area, and spending a few days exploring it is clearly worth it. Only you can discover the untold secrets of the Bang Bao Bay.
Spend a few days exploring it out of the main tracks, forget about your Lonely Planet and create your own opinion — then you will understand why it could be a really good choice for a long rental stay in Koh Chang. We have some exclusive houses to rent on a monthly basis in Bang Bao and some business for sale over there, just feel free to have a look at our offers : from a luxury bungalow on a quiet beach front area to a charming wooden house on stilts (we personnaly had a crush on this one), and many more. Take a look at this resort also : it needs a new owner to take over, and is clearly a profitable one.
The north side of the bay a is a very nice area, still undeveloped and spending a few hours exploring the different paths is a very good idea. You will find there a quiet lifestyle, and you will meet very kind local people living out from the touristic rush of the pier. Moreover, the view is just stunning, and some secrets spots are the most beautiful view points of the island. You will not find any information about them on the internet, and we will not spoil the joy to discover the bay by yourself.
In bulk, you will find there : a world war 2 Thai navy Battle of Koh Chang memorial, a secret wooden pontoon on stilts leading to a hidden way to a jungle small treck, Thai families living in this area for generations, tiny isolated beaches giving stunning views on the whole Bang Bao bay, peaceful landscapes out of touristic usual tracks, etc.
It could be a perfect place to stay on a long term basis if you know where to look. Bang Bao is also an excellent place to take over a business in Koh Chang. We have houses to rent on a monthly or weekly rate in Bang Bao and some houses to buy, we have also exclusive business listed to buy. Take a look at all our real estate offers in Bang Bao Bay.
Klong Koi
Klong Koi is the last beach village in the south of Koh Chang and is one of the most "still to discover" spot of the west coast of Koh Chang.
You can find a lot of low budget to rent in Klong Koi and some really nice beachfront resorts. In the past two years Klong Koi has known a little bit of hype, and is slowly becoming one of the place to be in Koh Chang. It makes Klong Koi an excellent choice for real estate development projects, or even for buy a house. We think in some years it will be one very busy area, on the backpacker side of the force.
As Koh Changers we love to spend some afternoons at Klong Koi beach, and we enjoy the peaceful atmosphere of this new paradise. You will find there a lot of simple good restaurants, and the friendly / peaceful atmosphere of Klong Koi makes it a perfect place for a monthly rental in Koh Chang.
In the night you will find some good weekly live music bands playing reggae music, and this kind of parties, plus a lot of nice spots to chill.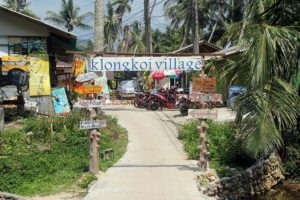 Overall, Klong Koi is what was Lonely Beach a few years ago, before it became the busy lonely beach we know nowadays.
So beware of Klong Koi : it's definitively one of the next real estate booms of Koh Chang.
We have some businesses for sale in Klong Koi, house for rent with monthly rate and some lands to buy. Don't miss it 🙂