In July 2019 C9 Hotelworks – a hospitality business consulting agency – published a report concerning the current state of tourism in Koh Chang, based on latest numbers and datas available from Thailand Ministry of Tourism.
While this report is very interesting for hospitality business and hoteliers, it also provides interesting insights for investors looking towards Koh Chang, Koh Kood and Koh Mak – since the tourism business and the Real Estate market follow each other on the island.
International and Domestic Tourism Growth
First of all, we learn in this report that tourism in Koh Chang is in pretty good shape, with 1.29 million visitors in 2018, based on guests check-ins and arrivals in registered accommodation, guest house and hotels – representing 99% of visitors in the whole Trat province. From this we can deduce that Trat province Government has all interest to improve infrastructures on the island in order to consolidate and increase this influx.
We learn as well that over the past decade (2008 – 2018) the tourism in Koh Chang has known a smooth and constant growth of 7.6% per year (Compound Annual Growth Rate), equally distributed between international and domestic market (respectively 7.6% and 8.4%), with a very notable growth of Chinese market (more details below).
The overall hotel and guest house occupancy rate% and average spending per Person show a constant growth :
Among other things, an interesting information concerns yearly distribution of tourism in Koh Chang between Thai and Foreign visitors, with almost 70% of visitors being Thai nationals :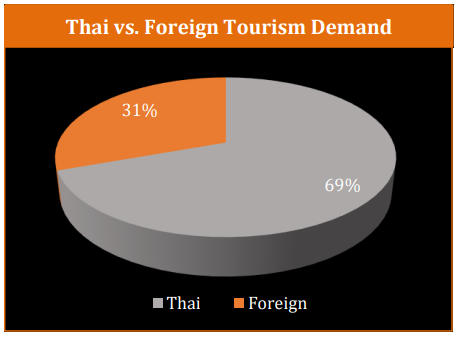 Trends in Tourism in Koh Chang
Ok, this one is no surprise for anyone living or working in Koh Chang, but it's a useful reminder for anyone thinking about moving in Koh Chang : the economy of the island is very seasonal. But some detailed statistics are insightful :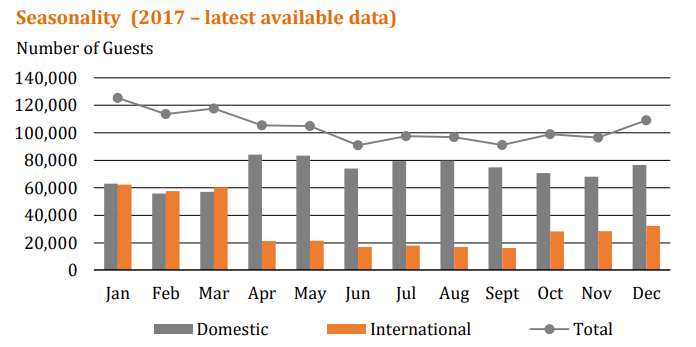 It highlights the difference between national and international tourists behavior : while overall tourism hits its peak between December and March (usually referred as "peak season"), we can see the Thai tourists don't mind the so called "low season", starting from Songkran Festival (mid April).
Finally, the chart below confirms what everybody has noticed during the past years : the Chinese market is exploding in Koh Chang, now ranking #3 in the top 5 nationalities of foreign visitors on the island :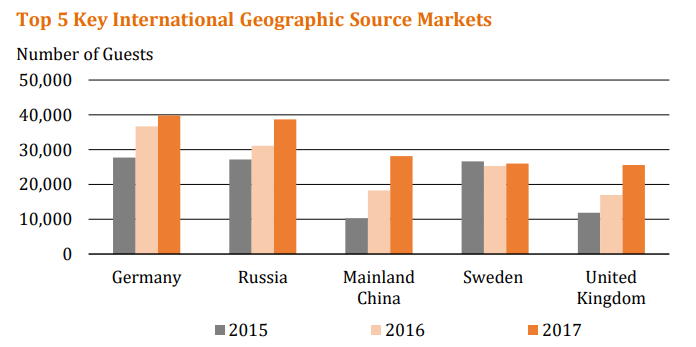 The report also reminds us that the road construction project at the south of the island is still expected, with no additional element.
We hope that this will help some of our readers to take the final leap and come to invest and live in Koh Chang – a true piece of paradise on Earth.